With so much going on the Internet, the main focus for any startup or entrepreneur should be to grow their email list.
Email? Why even bother?
Because your mailing list will:
?Help you grow your audience
?Automate the sales process
?Convert more leads to paying customers
? Give you a direct line of communication to your potential customers
But growing your mailing list is not as easy as scatter som Sign-up!-forms around your site.
It takes work and planning.
Fortunately, there's a lot of great tools that can help you build your company's most valuable asset (that's your email list if I wasn't clear about that…)
(Some of the links below are affiliate links – if you decide to buy any of the tools, I'll get a small kickback, but it won't cost you anything)
Make it impossible *NOT* subscribing with several opt-ins
Getting people visiting your site to sign-up for your mailing list should be the main goal.
Not to buy or try your product.
If they don't become a paying customer before leaving the site, they will most certainly never come back.
But if you get them on your mailing list, you'll have a direct line of communication with them, wherever they go on the internet!
I have a lot of different ways to opt-in for my mailing list, just on my website:
? Separate landing pages for my downloadable freebies, like this one for my e-book. Well-crafted landing pages are key to getting people to do anything.
? Content upgrades – pieces of content that are connected to a specific blog post that gives even more value:
? A banner at the top of certain pages, pointing to a specific landing page:
? Pop-ups firing 30 seconds after you've entered the website
? Exit-intent pop-ups if someone is about to close the browser window
? The Feedback Smiley nudging people to speak their minds about the content they are currently reading!
To mention some.
Different opt-on forms are shown on different pages and posts – and at the right time.
I used a simple and free WordPress plugin at first, but pretty fast I realized it was almost impossible to keep track of everything.
There's quite a few paid options out there, I tried many before settling with the Thrive Leads.
Price starts at $69 or $19 a month. Check it out here!
Use emojis to get feedback (and sign-ups)
This is one of the smartest ideas I've seen (and the reason I created my own version of it, as shown above).
Emojics lets you add a small but very clickable row of smileys on your website.
It's an interaction magnet! It is very hard to see them and not click to understand what they actually do.
Depending on which smiley you click, you can decide what kind of form to show: opt-in for the mailing list, feedback survey, a link or offer to mention some.
50 reactions a month for free, then from $14 a month!
Get to know your audience with quizzes
A quiz doesn't just have to be "Which Loaf of Bread are You?".
It can actually be something useful.
People have a really hard time leaving questions unanswered and buttons unclicked.
Because of that, inviting people to answer questions is a great way to start the interaction.
As soon as you get someone to invest only one click in you, it becomes really hard not to follow through.
There's an even bigger perk of using quizes and questionnaires:
The most important part of an efficient mailing list is a system that lets you tag and segment each subscriber.
This will let you send personalized offers and email which will make it much more likely for people to convert.
By tracking and saving the choices people make in your quiz, you are able to know stuff like:
What position they have in a company
The budget for marketing
If they are an entrepreneur or part of a company
The main problem they currently have
These are valuable when it comes to offering a solution!
Involve.me offers a lot of different ways to get signups through different kinds of forms.
100 submissions a month is free, then from $19/month
Check out the different options from Involve.me here!
Create your Lead Magnet in no time
"Sign up for your Newsletter" is the worst way to grow your mailing list. No-one cares about what's "new" in your company.
The best way to get people on your mailing list is to offer them something valuable to them – help them solve a problem or learn something new.
I spent a week writing and designing my ebook about email marketing for nocoders.
But it doesn't have to take that long!
You can package your knowledge in a piece of content that will help thousands of people – in less than an hour!
Don't make it complicated: Record your screen while solving an annoying problem and give it away for their email address.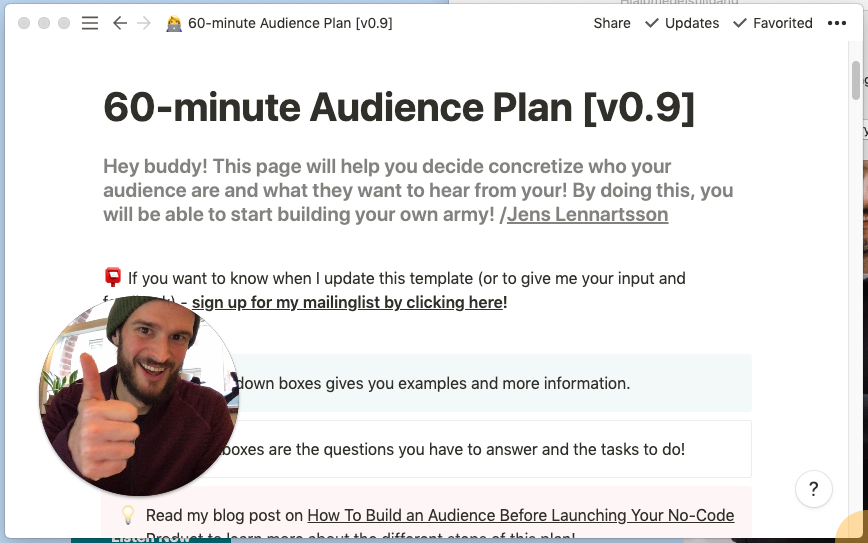 Loom is a super-simple way to capture your screen (and your face if you want to).
Video is a great way to share knowledge and to build trust – trust that will lead more people to buy what you are offering.
Sign up for a free Loom account here.
Plan and keep track of your funnel
I found out about Funnelytics a few years back when they were about to launch.
The free version of Funnelytics will help you to visually map your entire sales funnel.
Build it up with icons and arrows – move it around and add more connections as you go!
Trust me, when the number of sign-up boxes on your page goes double digits, you're gonna have some trouble keeping them apart!